Authorised retailer for Barbour Watches. Free delivery, 30 day free returns and five-star rated service. Buy now with up to 12 months 0% finance. Barbour is a well-respected luxury fashion brand, they are most famous for their line of waxed-cotton jackets. Barbour watches were first launched to high praise in 2014 in a partnership with Zeon Ltd. The watch range combines Swiss made movements with Barbour's British made fabric and case designs. The Barbour watch collection captures the essence of the brand perfectly with a modern-classic style derived from their 120-year heritage of great British design.
Brand History
Barbour was founded by John Barbour in 1894 as an importer of oil-cloth. In 1908 the first mail order catalogue was produced which was producing 75% of Barbour's orders by 1917 including international orders from countries as far away as Chile and Hong Kong! In 1934 a range of motorcycle range which immediately takes off and is worn by virtually every British international motorcycling team for the next 40 years. The brand continued to grow throughout the century with the iconic Beaufort waxed jacket being released in 1983. Barbour watches were launched on the 9
th
of October 2014, the first collection received incredibly high praise and was called a "natural progression for Barbour."
Unique Style
Barbour watches capture the style of the Barbour clothing brand perfectly with Barbour's own British made fabrics making it into the watch design. The range is full of watches like the
Barbour BB017GNBK Gents Canvas Watch
, the
Barbour BB006GDTR Ladies Nylon Watch
and the
Barbour BB010GNBG Gents Leather
Watch
which are simple, stylish and unique.
British Design, Swiss Movements
On the outside you get a uniquely British style which stands out amongst the rest of the market. But it's on the inside where the quality of Barbour watches shines. High quality Swiss-made movements are inside the watch collection to ensure high precision and incredible reliability. When you buy a Barbour watch you don't just get a unique luxury design, you also get an incredible watch which you know you can rely on.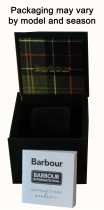 Official Barbour UK dealer
Great prices and savings on high street RRPs
Make us an offer service
Thousands of online reviews - average rating 4.9 / 5: Google Reviews - Trustpilot - ResellerRatings
Free bracelet adjustment available on metal watches
Over 20 years of high street watch and jewellery experience
---