Daniel Wellington Watches
About Daniel Wellington Watches
Daniel Wellington is an incredibly stylish brand of watches. The story behind the Daniel Wellington brand is that its founder, Filip Tysander, met a British man who was gentlemanly, but relaxed and unpretentious... of course, the man was called Daniel Wellington! Daniel Wellington have become popular for making attractive watches which are known for being cool, trendy and classy.
Brand History
Daniel Wellington is an interesting brand founded in 2011 by Filip Tysander, who previously ran a company called Neptune Designs making watches in a similar style to Ice-Watch. The original idea was devised in 2006 when Filip met a man when he was on holiday in Australia who went by the name of Daniel Wellington. The man Filip met was wearing a watch with a NATO strap which Filip hadn't seen before, it inspired him to create a line of watches which featured a stylish NATO strap. The brand has become incredibly popular in recent years due to the trend for preppy fashion, which is incredibly popular today.
Fashionable and Trendy
Daniel Wellington watches are certainly in with the current trends. The preppy style is very "now" and the watches that feature NATO straps allow you to change the strap on your watch, which means you can mix and match the straps to ensure they match whatever outfit you're wearing. Quality Performance Daniel Wellington watches are very precise and incredibly reliable. You are always certain to get a watch that looks good and works perfectly thanks to Daniel Wellington's great reputation for creating stylish, high-quality watches.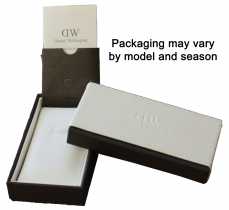 Official Daniel Wellington UK dealer
Great prices and savings on high street RRPs
Make us an offer service
Thousands of online reviews - average rating 4.9 / 5: Google Reviews - Trustpilot - ResellerRatings
Free bracelet adjustment available on metal watches
Over 20 years of high street watch and jewellery experience
---
No products matched your search. Please go back and try a less specific filter or a different search.