Mondaine Watches
About Mondaine Watches
Mondaine are a proud Swiss watch company who are known for their range of instantly recognisable
Swiss Railway Watches
, which are based on the iconic Swiss Railway Clock design. Mondaine also manufacture a sleek and stylish range of watches based on the typeface
Helvetica
, in 2015 Mondaine are adding the
first Swiss smartwatches
to this collection. Mondaine watches their watches have won numerous awards over the years and when you look at the range it is easy to see why, Mondaine watches are always beautifully designed and impeccably built.
Brand History
Mondaine were founded in 1951 and found their biggest success with the Swiss Railway Watch which was based on the Swiss Railway Clock . The original Swiss Railway Clock was designed by Hans Hilfiker in 1944 and quickly became a Swiss national icon. Mondaine licensed the design in 1986 and the watch has become a worldwide success, the watches have already been displayed in numerous museums and the Museum of Modern Art in New York. Mondaine continued to pay homage to iconic Swiss design with the Helvetica range, which is based on the typeface developed by Max Miedinger in 1957.
The Iconic Swiss Railway Watch
You can't talk about Mondaine without talking about the Swiss Railway Watch. If you've ever visited Switzerland you will have noticed this design almost everywhere! The design of the clock was inspired by Swiss railway stations with the second hand made into the shape of a railway guards signalling disc. Swiss Railway Watches are designed for gents and ladies, they are available at a number of different price points and in both black and white.
Affordable Luxury
Mondaine watches are undoubtedly luxurious, but many Mondaine watches are surprisingly affordable. A number of high quality Swiss Railway Watches cost less than £200 and some of the watches in the
Mondaine Helvetica Collection
cost less than £250.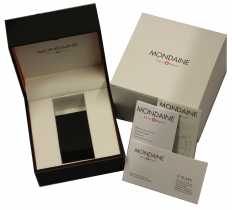 Official Mondaine UK dealer
Great prices and savings on high street RRPs
Make us an offer service
Thousands of online reviews - average rating 4.9 / 5: Google Reviews - Trustpilot - ResellerRatings
Free bracelet adjustment available on metal watches
Over 20 years of high street watch and jewellery experience
---
No products matched your search. Please go back and try a less specific filter or a different search.