Rotary Watches
About Rotary Watches
Rotary are an award-winning Swiss founded watch company, they pride themselves on producing watches that last. Rotary are so convinced of the reliability of their watches that they now offer a lifetime guarantee. Rotary are a very respected brand and were elected as a UK superbrand in 2006.
Brand History
Rotary were founded in 1895 by Moise Dreyfuss, who was dedicated to creating beautiful, elegant watches. The business grew incredibly quickly and within 12 years Rotary opened an office in London. The iconic Rotary logo was introduced in 1925 and it has only undergone minor changes since. During the Second World War Rotary became the official watch supplier for the British Army, this meant that a Rotary watch ended up in almost every household in the UK and left a lasting impression of the brand on the British public. Over the years Rotary has continued to grow in popularity and you can now find Rotary watches in over 35 countries around the world. Rotary is still owned by the Drayfuss family making it the oldest family-owned and run Swiss watchmaker.
Proud Swiss Heritage
Rotary have preserved their proud Swiss heritage for 120 years. Rotary continue to craft their watches with the same quality materials and test their watches to ensure they can withstand the rigours of everyday life.
Affordably Stylish
Rotary watches blend the "old with the new" and the "contemporary with the classic" to produce a distinctive design. The majority of Rotary watches fall within the £100-£300 range, making them affordable, luxury Swiss watches. Rotary even offer a number of watches underneath this price range, like the incredibly popular
Rotary Gents Vintage Watch
which appears in BBC's Sherlock.
The Dolphin Standard
The Dolphin Standard is an exclusive waterproof standard which certifies a watch for all day swimming and diving (apart from scuba diving). This is a revolutionary step forward from the confusing numeric system most manufacturers use. Rotary have applied this standard to most of the watches in their current range, including delicate ladies watches.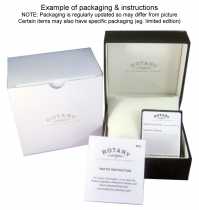 Official Rotary UK dealer
Great prices and savings on high street RRPs
Make us an offer service
Thousands of online reviews - average rating 4.9 / 5: Google Reviews - Trustpilot - ResellerRatings
Free bracelet adjustment available on metal watches
Over 20 years of high street watch and jewellery experience
---
No products matched your search. Please go back and try a less specific filter or a different search.